Simple, smart, specialist software
Bluechip is a trusted specialist practice management software designed to meet the needs of all specialists.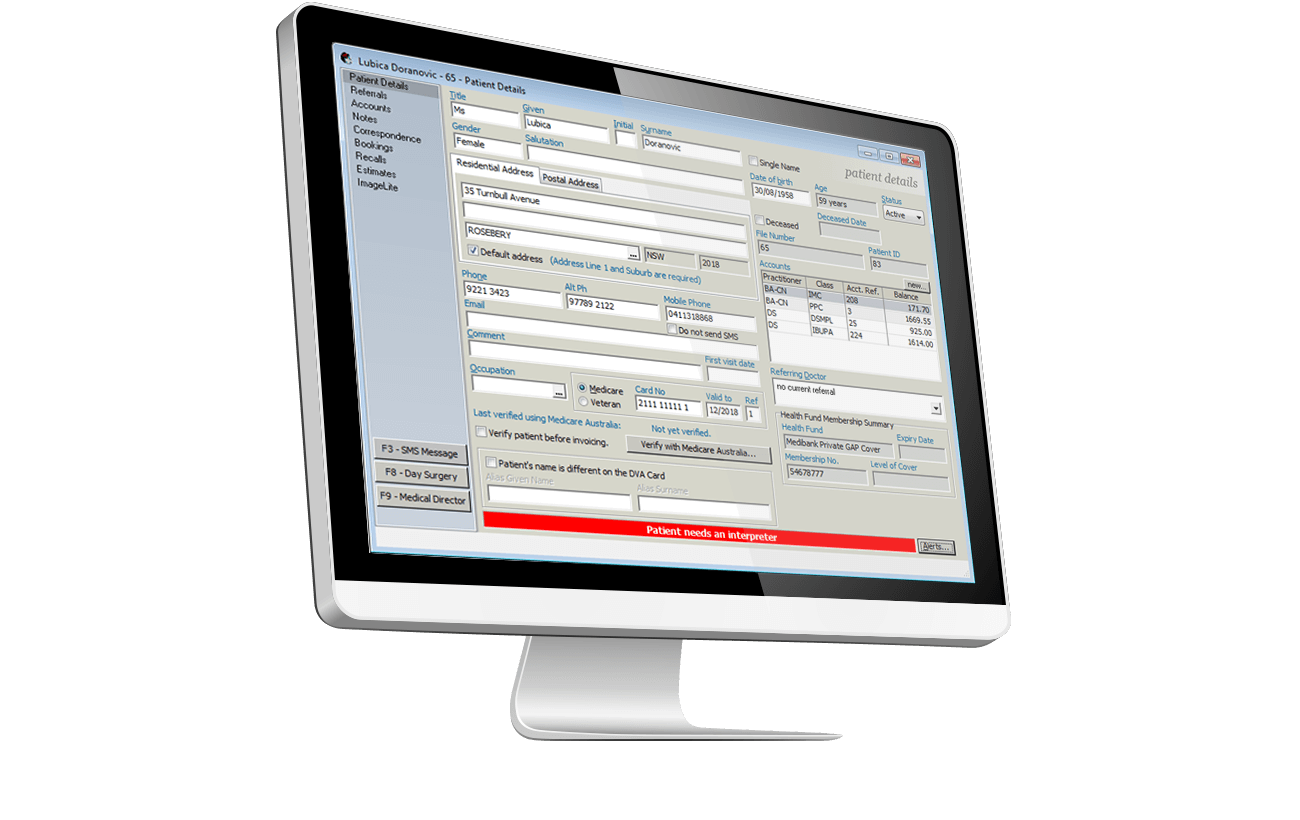 Tailored specifically for specialists.
Bluechip is designed specifically to meet the demands and challenges of specialist practices, larger general practices and private day surgery hospitals. Manage patient appointments, track business growth, run accounting reports and more, all in one integrated platform.
Drag-and-drop scheduling and easy referrals.
Choose from a variety of appointment book templates to boost bookings and manage multiple appointment books with easy drag-and-drop features. Easily view all bookings at a glance with colour-coded appointment types and side-by-side viewing, quickly view appointment days, weeks or months in advance to prevent double bookings.
Automated SMS reminders and alerts.
Reduce patient no-shows and enhance patient experience with automated SMS reminders and alerts.
Generate custom reports easily.
Manage patient and statutory reporting as well as business management reports using a customisable range of templates and easy-to-use automated reporting tools to streamline patient care and efficiently manage revenue. 
Make invoicing a breeze.
Simplify complex invoicing arrangements with easy-to-process prepayments, discounts, multiple accounts, separate items, patient estimates, invoices and final settlements.
Simple and easy to use
Get up and running quickly with intuitive software that is easy to understand and navigate, even for practitioners and staff with limited technical skills.
Scalable solution.
Bluechip is an innovative software solution that scales with your growing and busy specialist practice. Manage multiple businesses in one system, while also tailoring their billing, calendar and workflow to the unique needs of each specialist.
Switching is safe, simple and personal.
Moving to Bluechip is a breeze, and your data is protected with encryption throughout migration and access to our dedicated implementation team with you every step of the way.
What our customers say
Melinda Campbell | Respiratory & Sleep Medicine
"Bluechip is definitely a scalable solution that helps a growing specialist practice. In terms of manageability, patients and appointments are all managed quicker and better. Plus through the software, we're able to run reports to track our growth as well, and offer that as a spreadsheet to the practice owners. This helps give us a true reflection of the growth, and gives us more direction as to which way we should be heading."