Bluechip is a trusted online practice management software designed to meet the needs of all specialists.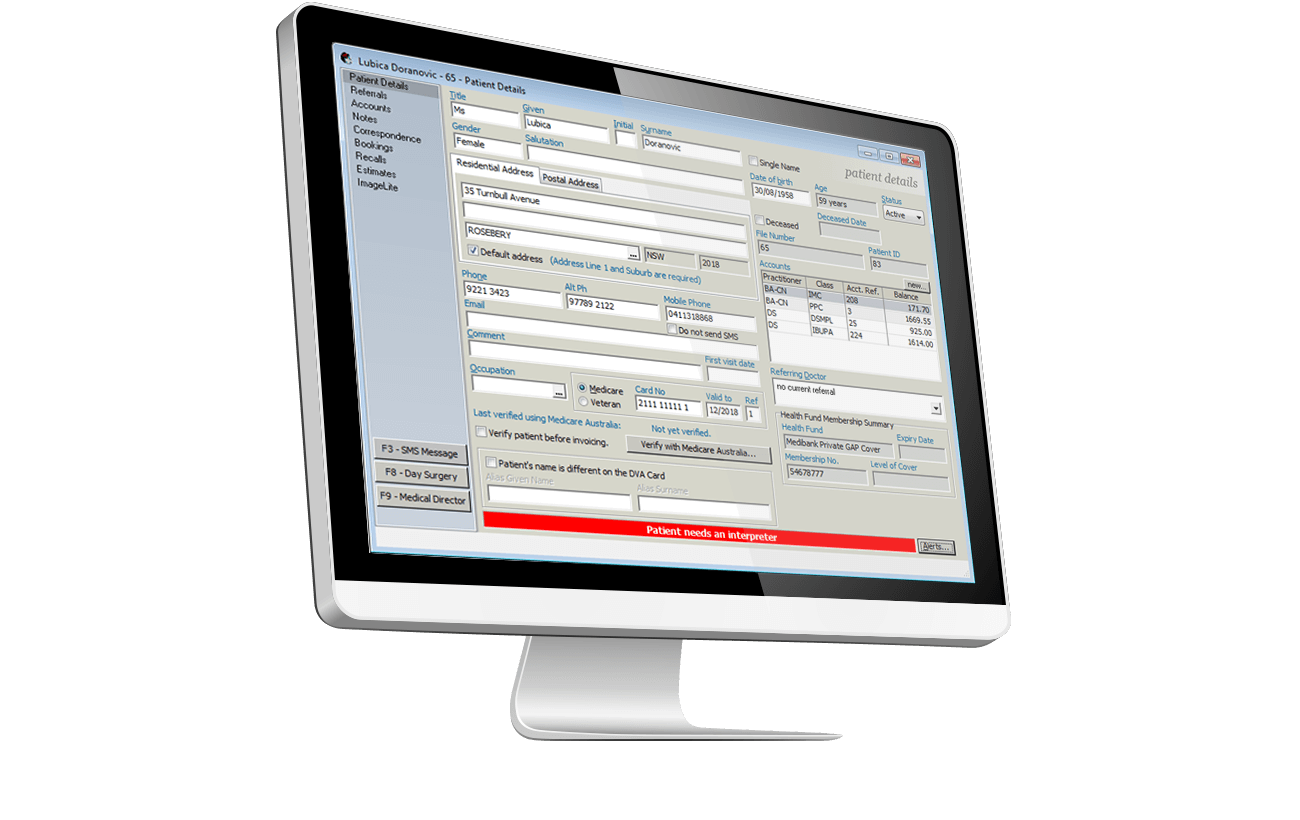 Tailored specifically for medical specialists.
Bluechip is designed to meet the demands and challenges of specialist practices, larger general practices and private day surgery hospitals. Bluechip is a practice management solution to manage patient appointments, track business growth, create custom reports and more, all in one integrated practice management system.
Drag-and-drop scheduling and easy referrals.
Choose from a variety of appointment booking templates to schedule appointments, boost bookings and manage multiple appointments with easy drag-and-drop features. Easily view all bookings at a glance with colour-coded appointment types and side-by-side viewing. Quickly view appointments by days, weeks or months in advance to prevent double bookings.
Automated SMS reminders and alerts.
Reduce patient no-shows and enhance patient engagement with automated SMS reminders and alerts.
Generate 40+ types of custom reports.
Manage patient and compliance reporting as well as business management reports using a customisable range of 40+ templates and easy-to-use automated reporting tools to streamline patient care, efficiently manage revenue and reduce administrative burdens.
Make invoicing a breeze.
Simplify medical billing and streamline practice operations with easy-to-process prepayments, discounts, multiple accounts, separate items, patient estimates, invoices and final settlements.
Quicker Medicare processing and claiming.
Bluechip is one of only four vendors fully integrated with Medicare Online's Electronic Claim Lodgement and Information Processing Service Environment (ECLIPSE).
ECLIPSE offers the ability to bill between the patient, Medicare, the Department of Veterans Affairs and the patient's health fund - all in one tap of a card.
Refer to Services Australia for more information on ECLIPSE.
Simple and easy to use.
Get your medical practice up and running quickly with intuitive software that is easy for healthcare providers and practice staff to understand and navigate.
Scalable solution.
Bluechip is an innovative practice management solution that scales with growing and busy medical practices. Manage multiple businesses in one system, while also tailoring billings, calendars and workflows to the unique needs of each specialist.
Switching is safe, simple and personal.
Moving to Bluechip is a breeze, and your patient data is protected with encryption throughout migration and access to our dedicated implementation team with you every step of the way.
Peninsula Cardiology Group
"Short Testimonial from the practice."It's so easy to generate reports and quickly access patient records. From an accounting perspective, you get a clear snapshot of how much you've made in a day, which makes managing our financial flow so much easier."
Over 20 years of experience
We've been fine-tuning our practice management software Bluechip for 20 years, in consultation with medical specialists across disciplines.
Seamless Patient Management
Designed with the modern specialist in mind
Add and manage new patients
Bluechip provides the ability to copy information from related family members – address, medicare numbers, phone numbers and email.
Patient search parameters
Search multiple address books from one window including parents, doctors, companies, health funds, solicitors and patients. Wild card functionality assists with finding the closest matches.
Patient search and invoicing
The patient search function integrates with invoicing, so you can adjust the recipient of invoices or respond to multiple parties at once in just a few clicks.
Data security and permissions
Manage data security and banking with password protection across banking, data access and reporting.
Seamless referral management
Manage referrals effortlessly and at the touch of a button within the medical software, with correspondence creation and storage management tools fully integrated with Microsoft Word and the ability to store images with patient files.
Custom reports
Get the specific information you need for your business with Bluechip's extensive range of prepackaged reports as well as the ability to create your own customised reports from a range of templates. Create high level reports for financial, billing and arrears as well as more granular reports to help identify availability gaps, appointment no-shows and customer trends to help you get the most out of your time.
intuitively designed
Efficiently manage your day surgery
Compliance reporting
Bluechip provides Federal and State government statutory reporting and is also fully compliant with second tier price structures making it easy to pass accreditation. Please note that each reporting body has slightly different requirements
Fully ICD compliant
Fully compliant and up to date with the latest full edition of the International Classification of Diseases database and Federal and State specific government requirements including PHISCo, VAED, ISAAC, QHAPDC and health fund extract requirements including the Private Hospitals Data Base (PHDB), Hospital Casemix Protocol (HCP) Reporting and Cancer registry.
Handle complex invoicing
Including band level billing for theatre and accommodation, multiple procedure scale rates, episode billing, and easily create estimates which can be converted to invoices at the time
of billing.
Experience Bluechip for yourself.
Contact us today on 1300 300 161 or complete the form below and one of our representatives will be in contact with you shortly to discuss Bluechip.