Recovering Lost Passwords
The following information describes how to create a new password, should you forget your old one; it is not actually possible to recover a lost password. This procedure differs from simply modifying your existing password. Also, this procedure must be performed by a Practitioner/user with Full Access.
Note that if you have Clinical installed (and are hence using a combined Clinical/Pracsoft
database), any modification you make to a password in MedicalDirector Pracsoft will also modify the password for the corresponding Practitioner/user's record in Clinical, and vice-versa.
To Create a New Password
1. Ensure you are logged-in as a user with Full Access.
2. Select Admin > User List. The User List window appears.


3. Select the user whose password you wish to recreate.
4. Click
 The User Details window appears.


5. Click
 The Set-up Password window appears.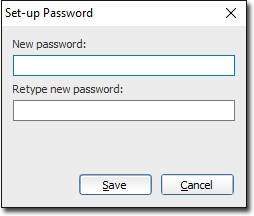 6. Enter and confirm a new password.
7. Click
to confirm and close this window. You will be returned to the User Details window.
8. Click
to close the User Details window.
9. Click
to close the User List window.