1. Log into Pracsoft as a Level 9 user.
2. Select Admin > User List. The User List window appears.


3. Click

 The User Details widow appears.


4. Enter up to 4 characters into the User ID text box. The User ID (usually the user's initials) is utilised throughout MedicalDirector Pracsoft to identify users and Practitioners. Each User ID must be unique.
The User ID (also referred to as an Initial Code) cannot be changed for a given practitioner if transactions have been recorded on behalf of them.
5. Indicate which type user this person is via the User Type drop-down menu. The choices are User and Practitioner. You are not required to add a practitioner at this stage. However you will need to add at least one practitioner before being able to process any billing.
6. Enter a name into the User Name text box.
7. Select a Security Level.
8. (Optional for practitioners) If you selected Practitioner as your User Type, you must now also select a Summary Data View option from the related drop-down menu. This alters the summary data view of a Daysheet Report.
9. Recall Attendance Prompt settings.

If you are using Clinical, and a visiting patient has any due Recalls, you can be prompted of such when adding them to the Waiting Room, or scheduling an appointment for them. You can then (optionally) indicate which Recall(s) the patient is attending for.
o Indicate whether this user will be displayed the Recall Attendance Prompt, and
o Whether the Recall Reason column will be visible to them within the prompt itself, or in the Waiting Room (i.e. you may wish to hide this information from non-clinical staff).
10. Click
 to confirm your selections. The Set-up Password window appears.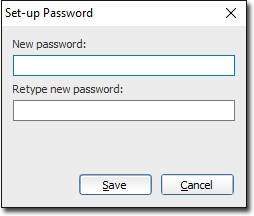 11. Enter and confirm a password for this user. Passwords must contain a minimum of 6 characters.
12. Click
to confirm your password choice.
13. (Optional) If you selected Practitioner as your User Type, you will now be prompted to setup the Practitioner Details for this user. If you choose not to do this now, you can later via the Registered Practitioners window. Note that until a practitioner has been activated and is visible in the Registered Practitioners window, they cannot perform functions in MedicalDirector Pracsoft.
NOTE: if you are using MedicalDirector Clinical, you will now need to edit this practitioner in Clinical to finalise the setup within in, or have the Practitioner login with this new account, which will prompt for setup finalisation.   See Adding, Editing and Deleting Practitioner and Nurse Practitioners