Address Book
Overview
Select File > Address Book.
The Address Book contains the names, phone numbers and address information for specialists, service providers and other people with whom you need to communicate. The data in the Address Book is used in the Letter Writer and when creating Pathology, Imaging and Cytology Investigation Requests.
It is common practice to keep the names of other General Practitioners, Physiotherapists and anyone else to whom you may need to write a clinical letter, in the Address Book.
Address Book names are listed alphabetically by surname or organisation name. You can also filter the list of names by surname or category;
Items of interest on the Address Book window

| | |
| --- | --- |
| Greeting: | |
| Category: | |
| Contact: | |
| Notes: | |
| | |
Creating a New Address Book Entry
Click
 The Addressee Details window appears. Enter details as desired, and click
to confirm and close the window.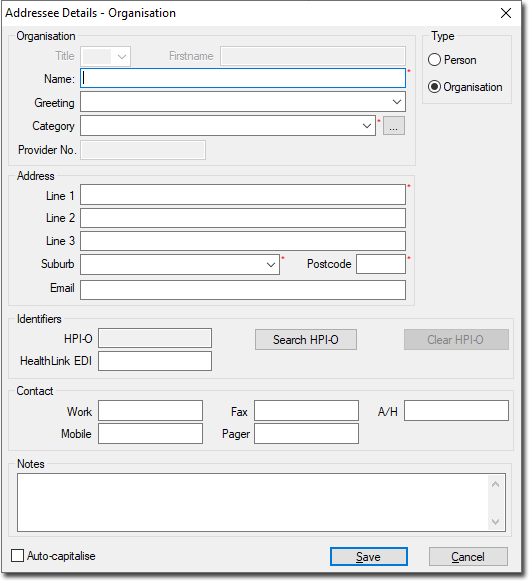 Complete the details for your Company entry. You can also automatically populate details by clicking
 This opens a list of search results that match the company name you have entered (you must enter at least the company name in order to conduct a search for match records).
Items of interest on this window
Printing the Address Book
1. With the Address Book open, either
o Select File > Print, or
o Press F9
2. The Print Address Book window appears.


3. Select to print Address Book entries by either Name or Category.
4. Click
when you are ready to proceed.
Online Directory Search
Accessed via the Address Book (select File > Address Book), and click
at the bottom-left.
o Tick the Use Extended Search check box to conduct the search using an extended set of third-party search engines. Note that an extended search may take longer to conduct.
o Click
to add a selected addressee to your local Clinical Address Book. The addressee will be available to all users at your practice.
• If you attempt to add an addressee that closely matches one already in your local address book, you will be prompted to confirm this action.